Binance Futures Beginner's Guide: How to Trade
July 4, 2021 by admin
464
Binance Futures is the leading cryptocurrency futures trading platform with leverage up to x125. It allows you to open Long positions (upward bets) and Short positions (downward bets). After our first look and test positions, we can say that the platform is very similar to that of Binance's spot exchange, which makes the transition very easy. The user experience is
Binance Futures is the leading cryptocurrency futures trading platform with leverage up to x125. It allows you to open Long positions (upward bets) and Short positions (downward bets). After our first look and test positions, we can say that the platform is very similar to that of Binance's spot exchange, which makes the transition very easy. The user experience is just as smooth, and trading is relatively simple.
How to Sign Up
Before you can open a Binance Futures account, you need to first have a regular Binance account. If you don't have one already, the opening process is quite easy and straight forward, you can follow the steps below to quickly create yours.
Binance Account Creation Steps:
Go to https://binance.com/
Fill the registration form by entering your email address and a password.
By using the link above, or by pasting in the referral ID 72765279 in the referral ID box, you will receive a 10% discount on all trading fees on the platform.
Once done click on "Create Account" and then verify your email address to complete your registration.
Once your email has been verified and you successfully login to your account for the first time, you will be prompted to complete your account security configurations and your 2FA security settings. Completing these security setups will add an extra layer of security to your Binance account.
Binance Regular to Binance Future Account:
After Creating your regular Binance account follow the below steps to go to Binance future
Login to your Binance account
Move your mouse to the bar at the top of the page and hover/click on "Derivatives" and choose Futures USDT-.
How to Fund Your Binance Futures Wallet:
Funding your new Binance Futures account is pretty straightforward and easy. You can:
Buy cryptocurrency on your Binance account with your credit/debit card,or using P2P trading feature.
Transfer cryptocurrency from other wallets into your Binance account and
You can use the new "Cross Collateral" feature to fund your Futures trading account.
Steps to Fund Your Account Using The "Buy Crypto" Option
Login in to your Binance account
Move your mouse to the bar at the top of the page and hover/click on "Buy Crypto"
Then click on the payment method you prefer.
Binance supports payment through credit/debit card, P2P Trading, and Third-party payment. This makes it the most advanced and easy to use trading platform in the world.
Once you have completed your USDT purchase you can then proceed to transfer the funds into your Futures Wallet.
Click on Transfer in the bottom right corner of the Binance Futures page.
Set the amount that you'd like to transfer and
Click on Confirm transfer. You should be able to see the balance added to your Futures Wallet shortly.
Differences between USDT- Futures and COIN- Futures
Binance Futures offers 2 types of futures contracts.
USDT-
 Futures:
Trading cryptos against the USDT
Perpetual contract: no expiration
COIN-
 Futures:
Trading cryptos against the USD
Perpetual or quarterly contract: no expiration or expires after 3 months (your choice)
Why Trade on Binance Futures?
There are a few reasons why one might consider trading Bitcoin futures:
Shorting Bitcoin and other cryptos: Hedge your positions and improve your risk management to protect your crypto portfolio during bear markets
Opening a leveraged position: trade without really owning the funds
No need to keep large amounts of BTC on the exchange because of the leverage
Bitcoin futures on Binance can be traded with up to 125x leverage. However, you should keep in mind that margin trading is not recommended for beginners since it involves a significant amount of risk, and you can lose your capital a lot quicker than you otherwise would.
How to Trade On Binance Futures:
On the bottom right, right under the order book, there is a "Transfer" button. To start trading Bitcoin futures, you'll have to transfer some USDT to your Futures account.
Doing so is pretty straightforward. Once you click the button, you will be asked how much USDT you want to transfer and from which account. Simply specify the amount and hit the "Confirm" button. The transfer happens automatically.
Leveraged Trading on Binance Futures
Binance allows traders to place trades with a leverage of up to 125x. As a matter of fact, setting your leverage is fairly simplified.
On the top left corner there is a button right next to the BTCUSDT symbol that can be clicked and it will pull up the following slider: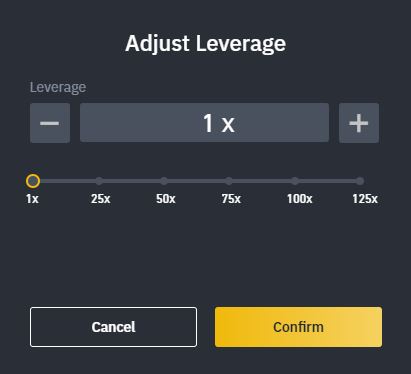 From here, it's pretty straightforward. The slider can be used to set whatever leverage is preferred from 1x to 125x.
So, for example, if you decide to use 100 USDT with leverage of 100x, this will open a position worth $10,000 and you'd only have to post 100 USDT as a margin.
How to Trade Bitcoin Futures on Binance Futures
Trading Bitcoin futures on Binance is simple. The platform only allows trading Bitcoin/USDT with up to 125x leverage, and up to 75x for other cryptocurrencies. In contrast, other margin exchanges allow leverage of up to 100x.
There are four types of orders that you can place on the platform:
Limit Order
Market Order
Stop-Limit Order
Take-Profit-Limit Order
Opening a Short or Long Position
Limit Orders
Limit orders are used when you want to buy at a specific price.

To set a limit order, you'll have to specify the price at which you want to buy or sell. On the Order Quantity tab, input the amount of BTC that you wish to buy. In this case, we've set a target price of $8,400 and a quantity of 1 BTC. So as soon as Bitcoin's price reaches $8,400, we will have an order to buy/long. Note below that the margin required for this order is only 420 USDT because we've used a 20x leverage.
As soon as you hit the "Buy/Long" button, your position will be opened. Below, we will show you where to monitor it and how to close it.
Market Orders
The most basic order type, market orders are used to buy Bitcoin at a spot price.

All that has to be entered is the order quantity. Again, note that the margin required is 20 times less than the actual value of the order.
Stop-Limit Orders
These are typically used as a stop-loss mechanism, but not always.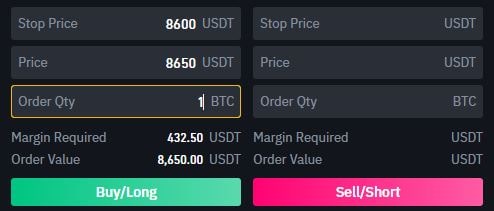 The stop price is the price at which your order will become a regular limit order. The price tab indicates when you want to buy.
Imagine that you expect Bitcoin to face significant resistance at $8,600, and if it breaks above it, that will give confirmation that the trend is bullish. You would want to set your stop price at $8,600, because as soon as it's hit, your stop-limit order will be converted to a regular limit order to buy at $8,650. You can also use this as a stop-loss mechanism to reduce your level of risk.
Take-Profit-Limit Orders
As the name suggests, this is mainly used to set the price at which you wish to collect your profits.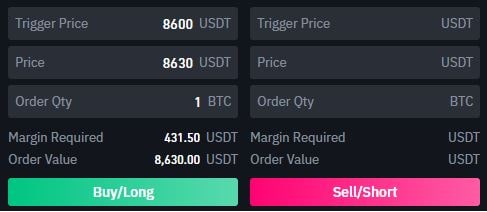 Your trigger price establishes the price at which your order will be placed in the order book. The price tab shows the price at which you want to buy.
Closing a position
As soon as your position is opened, you will be able to monitor its status. For the sake of this guide, we've opened a long Bitcoin position using a standard market order, as shown in the example above. Here's where we can track it:
As you can see, we've bought 0.1 BTC at an entry price of $8,273. In other words, we have opened a long position of 0.1 BTC. Since it is 20x leveraged, the required margin on this trade is only around 43 USDT.
If you wish to close your position, you have two options. A market close is instant, and you close at the best available spot price. In contrast, a limit close lets you specify the price at which you would like to close the position.
As you can see, the position tracker also contains a liquidation price. This is the price that, if reached, will see your position liquidated due to insufficient margin. Keep in mind that the entire amount in your futures wallet is used as collateral. Hence, if the price doesn't go in the direction of your trade, the platform will use your remaining capital as collateral.
As soon as you hit the "Market" button, your position will be closed and you will see the funds return to your margin account.
Which Cryptocurrencies Does Binance Futures Support?
As of writing these lines, Binance Futures promised and did extend the variety of trading pairs. Besides Bitcoin (BTC), the platform offers up to 75X leverage trading of the following pairs:
Ethereum (ETH) / USDT
Ripple (XRP) / USDT
Binance Coin (BNB) / USDT
Bitcoin Cash (BCH) / USDT
Cardano (ADA) / USDT
Stellar (XLM) / USDT
Tron (TRX) / USDT
EOS / USDT
Litecoin (LTC) / USDT
Ethereum Classic (ETC) / USDT
Chainlink (Link) / USDT
Monero (XMR) / USDT
Dash / USDT
Zcash (ZEC) / USDT
Tezos (XTZ) / USDT
More pairs against USDT include Cosmos (ATOM), Ontology (ONT), Brave (BAT), VeChain (VET), IOST, QTUM, ALGO, THETA, ZRX & NEO.
New pairs added June/July 2020: ZIL, KNC, COMP, SXP, and OMG.
New trading pairs added Oct/Nov 2020: MATIC, SRM, UNI, SUSHI, REM, BEL, HNT, OCEAN, KSM, RSR, LRC, FIL, NEAR, TOMO, ENJ, FLM, FTM, AVAX.
What are Binance Futures' Trading Fees?
One of the more crucial things to consider when selecting a futures exchange is its trading fees. This is especially important if you are day trading, as the fees can pile up fairly quickly.
As is almost always the case, Binance has done a great job of visualizing its fee structure.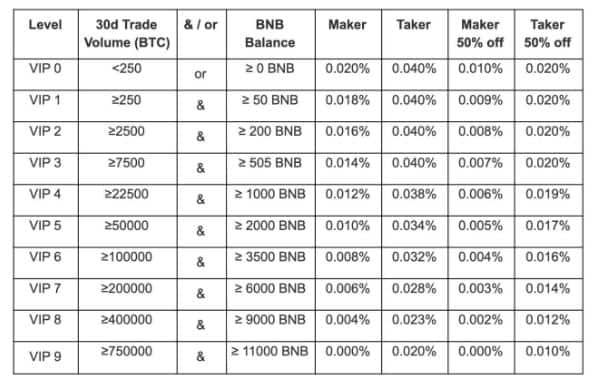 Long story short, the default level (VIP 0) carries 0.02% maker fees and 0.04% taker fees. In order to enjoy reduced fees, Binance requires you to both hold its native Binance Coin (BNB) and maintain a decent amount of turnover volume (in BTC).
All of the VIP benefits of the spot market exchange apply to the futures market. What is more, the fees are generally lower than those on the spot market. However, the volume requirements for each of the VIP tiers are 5 times larger than those on the spot market because of the leverage.
Security of the Binance Futures Exchange
Needless to say, Binance is probably the most secure cryptocurrency exchange out there. Naturally, it's not immune to hackers, but the company is doing a splendid job of keeping users' funds protected.
Even if the exchange were to get hacked, which it has in the past, Binance has introduced a so-called SAFU fund. Beginning last July 14th, the exchange has allocated 10% of all trading fees into its Secure Assets Fund for Users (SAFU) in order to offer additional protection to users in extreme cases. Those funds are stored in a separate cold wallet.
Moreover, Binance has a very rigorous KYC process that applies to its futures exchange platform.
Binance Futures' Support
Unsurprisingly, the Binance Futures exchange shares the primary spot exchange's emphasis on support, and users can rely on a team of experienced and highly adequate international support staff.