Several areas in Sindh remained inundated with floodwater as authorities continued efforts to safeguard Sehwan's Bhan Syedabad city and Dadu city from a possible deluge.
Dadu Deputy Commissioner (DC) Syed Murtaza Ali Shah told Dawn.com that work on Ring bund to protect Dadu city continued on Tuesday morning.
MPA Pir Mujeeb ul Haq, elected from Dadu's PS-74 constituency, said heavy machinery was being employed to raise the bund. He said the floodwater was estimated to be at a distance of six kilometres from Dadu city in the morning.
MNA Rafique Jamali, elected from Dadu's NA-235 constituency, said work was also ongoing to strengthen Main Nara Valley Drain's protective dyke.
In Sehwan, efforts were under way to save Bhan Syedabad city, said MNA Sikandar Ali Rahoupoto, who had been elected from the area's NA-233 constituency.
"The situation where Ring bund is located was bad at night due to strong winds and tides, but it is back to normal now," he said, adding that machinery was being used to complete work on Bhan Syedabad's Ring bund.
According to Sehwan Assistant Commissioner Iqbal Hussain, 450 villages in seven union councils of the tehsil were flooded by water from Manchhar Lake.
He said relief efforts in the area were ongoing and those affected by floods were being shifted to safe spots. "We have put up over 50 relief camps and tent cities," he added.
Sindh is where floodwaters from record monsoon rains and glacial melt in the mountainous north and hill torrents from Balochistan have converged and are wreaking havoc after leaving a trail of deaths and destruction elsewhere.
Manchhar Lake — said to be the country's largest freshwater lake — has been the main source of the threat, compelling authorities to breach its protective dykes and other structures along its paths in a bid to divert the flow of water towards less populated areas and prevent flooding in densely populated regions.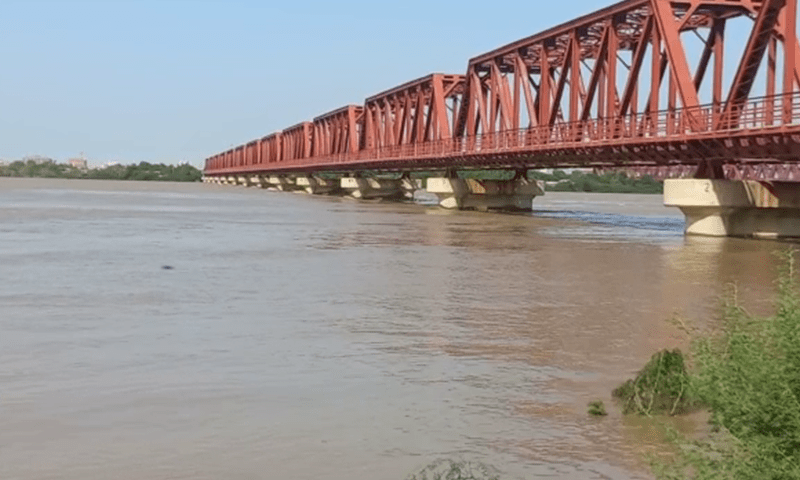 Meanwhile, Irrigation Emergency Cell In Charge Sher Muhammad Mallah told Dawn.com that the water level in Manchhar was recorded at 122.6-foot reduced level (RL) on Tuesday morning and the water level in the Indus River was at 127.4-foot RL at the Dadu-Moro bridge.
The river's water level was recorded at 109.5-foot RL at the Amri bridge, he added.
Irrigation Engineer Mahesh Kumar said water from Manchhar was being discharged into the Indus at RD-96, RD-99, RD-98, RD-199 and Karampur and the flow of water was recorded at 50,000 cusecs.
The Flood Forecasting Division's website showed there was a high-level flood in the Indus at Kotri.
Farmers running low on fodder
Farmers in several villages of Sindh have braved the rising waters to stay on and try to keep alive their remaining cattle.
Those stranded by unprecedented floods were running low on feed for their cattle, officials said on Tuesday, as airdropping supplies proved a difficult task.
"It is a serious issue," the army official told Reuters. "Airdrops would not work, but it is important that fodder be supplied to livestock."
The situation is set to worsen as weather officials have warned of more rain in the next few days, posing a fresh threat to thousands of displaced people living in tents or in the open alongside highways.
Officials estimate about 700,000 cattle have been lost in the floods nationwide, and the rest, which form a critical asset in a poor country, are growing thin for lack of food.
Repair updates
Unprecedented rains and flashfloods have affected around 33 million people across the country, caused economic losses estimated at $30 billion and resulted in one of the deadliest monsoons that Pakistan has witnessed so far, claiming almost 1,400 lives.
Authorities have now begun the reconstruction of damaged structures.
According to an update by the Prime Minister's Office (PMO), work for the restoration of roads and electricity supply to flood-affected areas has been ongoing on an emergency basis, on the directives of Prime Minister Shehbaz Sharif.
The PMO said in a tweet that the premier was himself monitoring the repair work and a report was being submitted to him on a daily basis.
So far, sections of Gwadar-Ratodero Motorway (M-8) had been opened for one-way traffic and landslide-hit Wango Hill had been cleared.
Moreover, a 132-kilowatt transmission line had been repaired in Timergara and operations had resumed at Bajaur and Munda grid stations.
Bhan Syedabad was being supplied electricity from alternative sources and Warrah was being supplied electricity from the Qambar grid station, the PMO said.
Separately, PM Shehbaz commended civil and authorities for raising a three-kilometre bund to protect the Dadu grid station from floodwaters within 36 hours.
He also appreciated the National Highway Authority for the restoration of M-8.