Anoushey Ashraf had relationship advice, advice on how not to sin, pet advice and a whole lot more during her latest Instagram Q&A session.
On Thursday, the RJ posted an Instagram Q&A sticker with a limit of 15 questions she was hoping to answer. However, exceeding the limit, Ashraf gave her followers the scoop on what she thinks about certain challenges faced in a relationship, the future of Pakistan and what to hope for. We picked out six of our favourite questions to share with you.
The first question was about faith and liking someone from a different sect. The follower said he likes a woman from a different sect than his own and the woman likes him back but both are confused because of their differences. Ashraf in response said, "Look at what works for you. At least you'll follow the same faith which should make life easier? Also, families need to be told (respectfully) that as adults it's now your decision and you'd very much appreciate their support and blessings."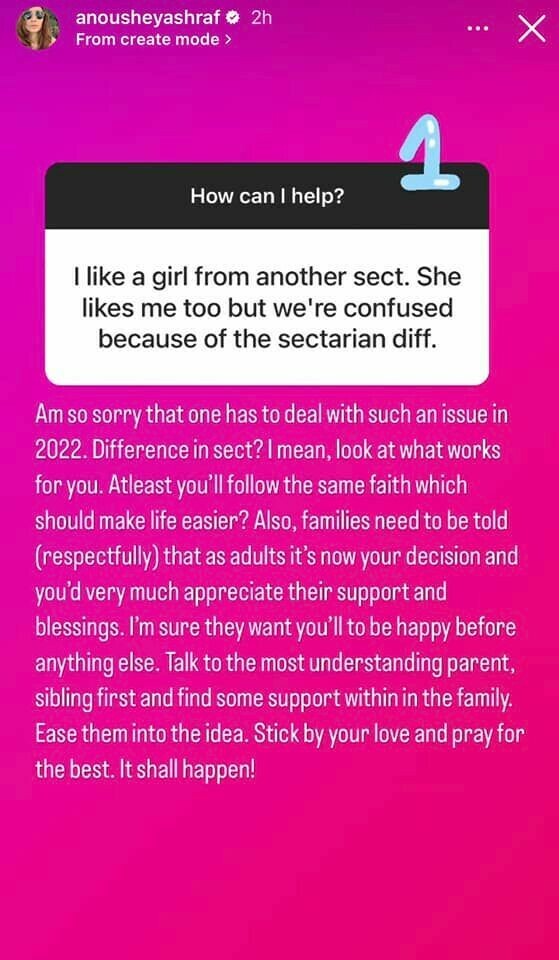 She suggested that they must talk to the most understanding parent and sibling first and find support within family to ease them into the idea.
She received another relationship-related question, this time from a follower who asked about the cultural differences with her being from Pakistan and her significant other being Indian and how his parents won't agree to accept her as his wife. "Goodness! South Asian families really determining what's best for everyone around them. You came through your parents into this world, yes. But you're not their slave. As previously mentioned, the man should gain courage and speak to them about his feelings and intentions," the RJ wrote.
She gave the example of former cricketer Shoaib Malik and his wife Sania Mirza and said if they can make it work with respect to being in the public eye etc so then anyone can. "As adults, you have the right to make this choice on your own. Don't feel guilt about that. Or you'll never forgive your parents or yourself for letting go," she concluded.
Another follower asked about how to control oneself from committing a sin to which the TV host suggested that they must seek help in the form of therapy. "If your sin is harming someone else, I suggest you put a stop to it and understand the root cause of the problem so you can avoid it in the future. If you[r] sin is in conflict with your religion, seek guidance and forgiveness for God is most merciful. Either way, learn the art of self control. Don't feel guilty for who you are. Don't hurt anyone else but if your sins are hurting you, repent, get help. God helps those who help themselves," she said.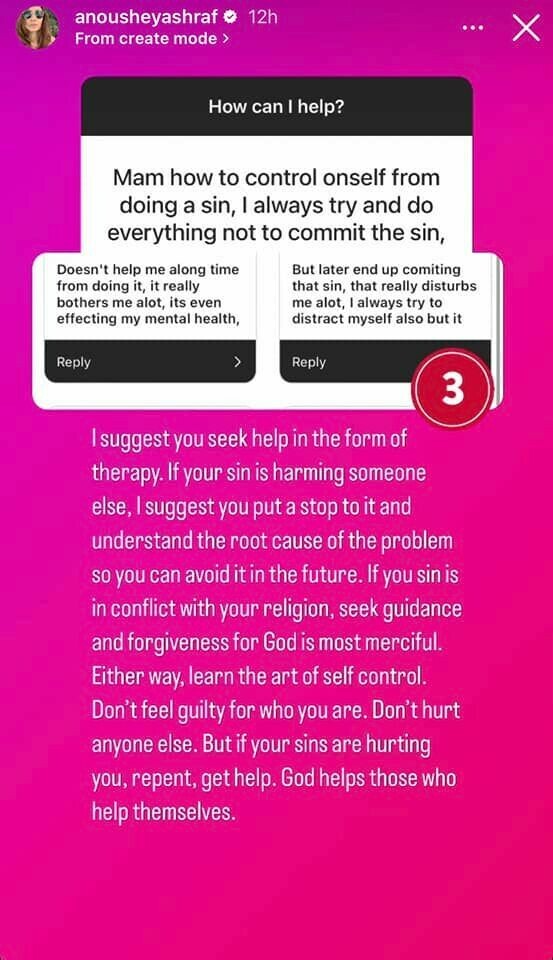 One follower shared their thoughts on the alarming situation in Pakistan and how "heartbroken" they are when they look at their children and see what their future holds.
Ashraf also joined in with the same emotions and said that for the first time in her life, she has contemplated leaving Pakistan. "Like we say in Urdu, Dil uth gaya hai [my heart is broken]. 14th of August felt like a zabardasti [forceful] celebration while things fall apart. However, you and I cannot and will not lose Hope. We will be better citizens, exercise our democratic rights and have faith that it will get better," replied the RJ.
She also apologised to the user for feeling a certain way and wished that she had more words of solace. Ashraf also reminded them that all of us are in this together and we can only hope for the better because "you never know what awaits."
Ashraf is a known animal lover and has pets of her own so it was no surprise that she received a pet-related question. She answered a query about wanting pets but not being a fan of cleaning, nor having the proper knowledge to train a puppy or kitten.
"Well, cats are good at training themselves. However, animals are like kids. They require a certain level of dedication and work. Discipline and love. Get a pet when you are ready. These mind blocks won't help. I've had to clean after my pets over the years. They bring tons of joy yes, but they aren't just for fun. they're to love, take care of and teach you loyalty, responsibility and how to care for another being who's extremely vulnerable. If all else fails, find a trainer," Ashraf recommended.
She concluded with a question about a follower asking for an advice on how to approach their boss for a pay raise without using the "I quit card". She jokingly suggested that the person must not use the I quit card, instead they should use the emotional blackmail card.
"Tell him you've worked hard and done well and would really appreciate a raise at this point in time. It's the need of the hour and you genuinely feel it's time. And if he can't do it atm [at the moment], ask for a timeline so he knows you're awaiting the raise and then think what steps to take next," advised Ashraf.
Some other questions she entertained were about ending the habit of being a people pleaser, how to expect things in life, how to become an RJ, the appropriate age for marriage and on the search for a "doctor bahu".